Order By 3 PM CT - FREE SHIPPING TODAY*
"Your Online Pest Control SuperStore Since 1997"
Call Us - 1-855-553-7378
8:30 - 4:30 PM CT (M-F)*
MR-1000 Forza Steam Cleaner
Professional Quality Bed Bug Steamer - 280F Steam!
MR-1000 Forza Steam Cleaner / Bed Bug Steamer is the pinnacle in commercial grade, professional steam cleaners. With over two years in development, the engineers at Vapamore set out to create the absolute best steam cleaner available. Performance, durability, and value were top priority when developing the Forza.
Bed Bug Treatment Using MR-1000 Steam Cleaner



MR-1000 Forza Steam Cleaner features, commercial grade steel construction, continuous flow, computer controlled operation, Italian manufactured CEME® brand internal components, specially designed extra large stainless steel boiler with 1700 Watt heater, 90 psi steam output pressure, ETL certified, life time warranty and the largest selection of included accessories.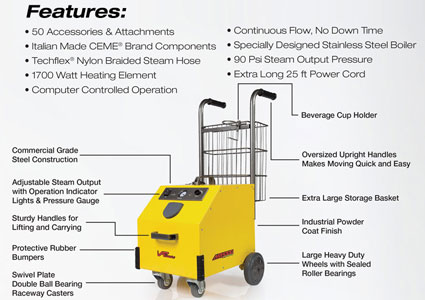 MR-1000 Forza Steam Cleaner Features:
* Produces 270° - 280° steam
* 90 psd Steam Pressure
* 50 Accessories & Attachments
* Stainless Steel Boiler
* Italian CEME® Brand Components
* Continuous Flow, No Down Time
* 1700 Watt Heating Element
* Computer Controlled Operation
* Techflix® Braided Steam Hose
* Adjustable Steam Output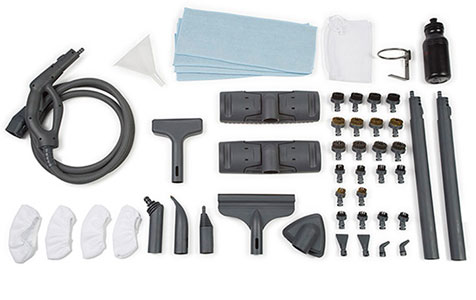 MR-1000 Forza Steam Cleaner Parts:
INCLUDES:
Steam Gun and Hose
Accessory Tool Adapter
2 x Jet Nozzle
2 x Detail Scraper
4 x Nylon Grout Brush
4 x Med. Nylon brush
4 x Large Nylon Brush
4 x Small Brass Brush
4 x Cotton Cover
2 x Extension Tubes
4 x Large Stainless Brush
4 x Large Brass Brush
4 x Micro Fiber Floor Pad
Large Elbow Adapter Floor
Head With Bristles
Floor Head Smooth Surface
Triangle Corner Brush
Smooth Surface Squeegee
Detail Jet Tool
Bed Bug / Fabric Tool
Accessory Storage Bag
Funnel
Water Bottle & Holder


Specifications:
Power Supply: 120 V 60 Hz
Heating Element: 1700 W -14 A
Steam Pressure: 6 bar - 90 psi
Boiler Temp: 160 C - 320° F
Tank Capacity: 4.2 L - 1.1 gal
Boiler Capacity: 3 L - .8 gal
Steam Time: Continuous
Heating Time: 9 min
Steam Flow: 40 gal/min
Power Cord L.: 25 ft
Steam Hose L.: 8 ft
Weight: 20.4 kg - 45 lb
Certification: ETL
UPC: 860390000031



MR-1000 Forza Instruction Manual

MR-1000 Forza Written Warranty
Specifications:
Power Supply: 120 V 60 Hz
Heating Element: 1700 W -14 A
Steam Pressure: 6 bar - 90 psi
Boiler Temp: 160 C - 320° F
Tank Capacity: 4.2 L - 1.1 gal
Boiler Capacity: 3 L - .8 gal
Steam Time: Continuous
Heating Time: 9 min
Steam Flow: 40 gal/min
Power Cord L.: 25 ft
Steam Hose L.: 8 ft
Weight: 20.4 kg - 45 lb
Certification: ETL
UPC: 860390000031
MR-1000 Forza Steam Cleaner Category:
Tool, Steam Cleaner
MR-1000 Forza Steam Cleaner Manufacturer:
Vapamore
Customers Also Purchased
Pest Products
Vapamore
MR100
Limited Time Sale - Save $20 at Checkout!  Coupon Code - Express20
Pest Products
ZAPPBUGROOM
ZappBug Room
Pest Products
Vapamore
MR750
Limited Time Offer - Save $50 OFF!Coupon Code - EXPRESS50