Proven Performance with Trelona® ATBS "Already Treated Bait Stations".
Whether it's home monitoring or active protection, you need termite control that works.  Trusted by professional pest control companies including Terminix®, you can own the same great protection without contracts or fees.Through superior design, termites find Trelona® stations faster* than Sentricon®. Best of all you gain independence and control by using Trelona® ATBS Annual Bait Stations and the Advance® Termite Bait Stations. When you own the equipment  and do-it-yourself - you're in full control.
ePestSupply is Your #1 Source For Trelona® and Advance® Termite Baiting Stations
The success of any termite baiting program depends on the ability of termites to locate the station. With its larger size and unique vertical slots, ATBS Stations are specially designed to create a termite-friendly environment. In fact, termites find ATBS stations faster than they find the leading competitor's station.*
The Trelona® ATBS Annual Bait Stations label gives you the flexibility to check stations just once a year, or more frequently if you prefer. This can save labor costs with fewer visits to inspect stations each year.
The BASF termite baiting portfolio puts you in complete control, with full ownership of your equipment and no requirement to share your customer's information with the manufacturer. You gain the freedom to create and maintain your customer relationships the way you want.
Whether using a monitoring system or active bait, BASF and ePestSupply are the keys to providing the best option for your home.
Advance® Termite Bait Stations
Strategic design leads to faster hits by termites 

Active ingredient is only added once termite activity is discovered

Cost-effective option for pre-construction, GPC bundling, and sensitive accounts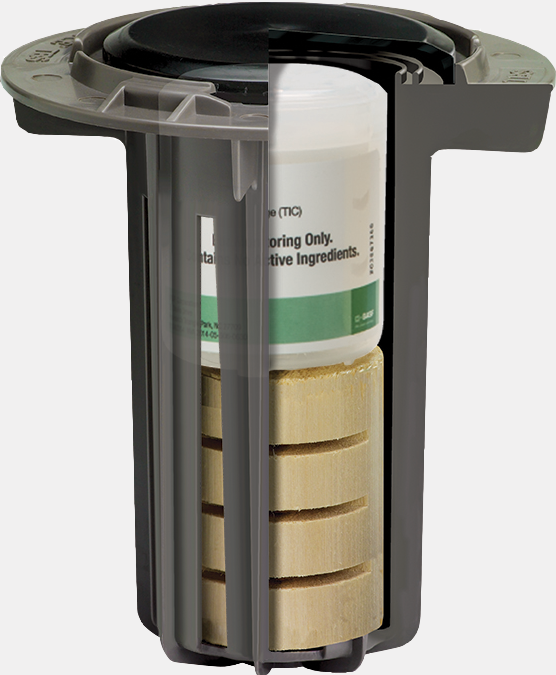 Trelona® ATBS Annual Bait Stations
Utilizes same powerful station design, but features active protection at the time of install with novaluron-based ingredient
Provides operational efficiencies by requiring only one inspection per year
You own the Bait Stations compared to license agreements with Sentricon
The bait station that termites find faster
ATBS Stations feature a superior design that leads to fast termite hits. In fact, in a university study, termites found ATBS Stations faster than Sentricon stations. In this study, ATBS and Sentricon stations were placed within 0.5 meters of an active termite colony. The study had 20 replicates and stations were checked daily over 46 days producing the results to the right.
Source: 2012 University of Delaware, Graduate Research Dissertation *Not statistically significant at p<0.05; Statistically significant at p<0.10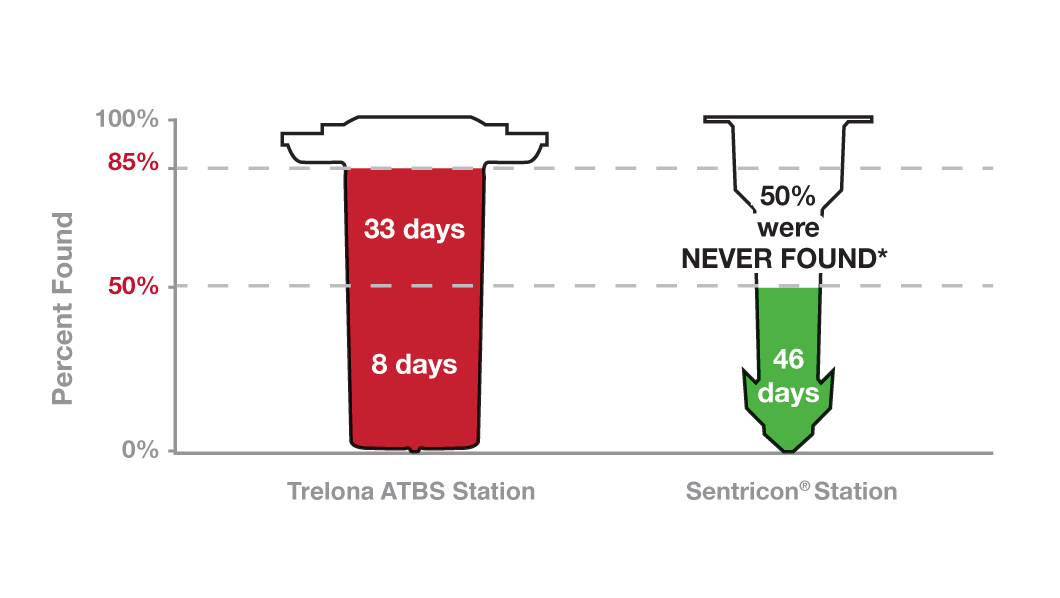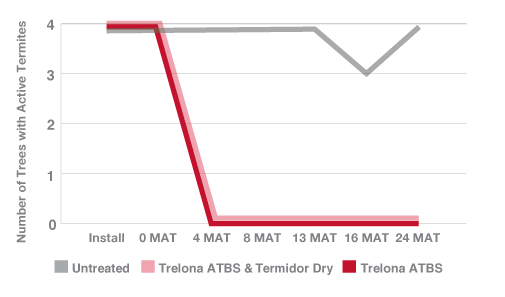 Trelona® ATBS Annual Bait Stations, with the active ingredient Novaluron, doesn't simply reduce the number of termites. It achieves on-going structural protection through colony elimination.
In the study to the left, 4 termite-infested trees were surrounded with Trelona® ATBS Annual, and another 4 with Trelona ATBS Annual plus a Termidor® Dry termiticide treatment, and 4 more were left untreated as controls.
All trees treated with Trelona® ATBS Annual showed no termite activity after 4 months and remained inactive at 24 months, compared to untreated trees that continued to show activity throughout the study.
Note: Termidor Dry has been discontinued.