Order By 3 PM CT - FREE SHIPPING TODAY*
"Professional Help By Phone.  Since 1997"
Call Us - 1-855-553-7378
8:30 - 4:00 PM CT (M-F)*
**Special Order** - 3-5 Day Delivery, Ships Directly From Manufacturer. 35% Re-Stocking Fee if returned.




ZappBug Room™
ZappBug Room™ kills 100% of all bed bugs in all life stages, including eggs, nymphs, and adults! Scientific evidence shows that bed bugs die in one minute at temperatures above 120°F. The temperature inside ZappBug ranges from 120°F to 145°F.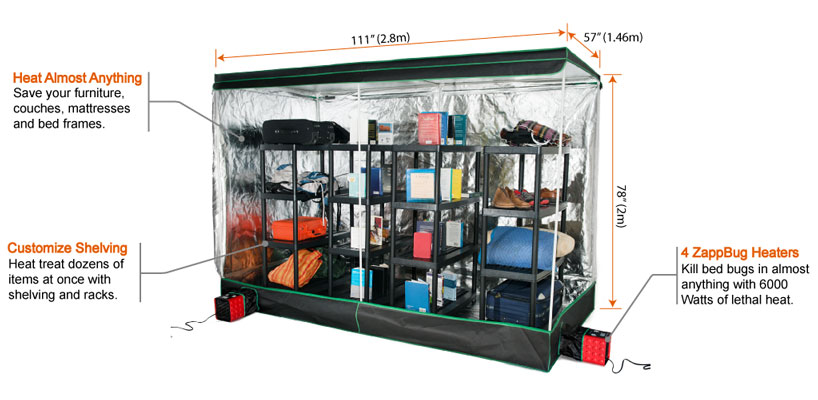 ZappBug Room™ has the largest capacity of any portable heat chamber available on the market today measuring 80" x 111" x 57.5". This large space makes it easy to treat many items at once which reduces time spent getting rid of bed bugs. Easily transport and store the ZappBug Room™ with the included carry bags!





ZappBug Room™ Features:
* Kills 100% of bed bugs in all life stages
* Easy to use
* Safe
* Insulated for efficiency

ZappBug Room™ Uses/Applications:
The ZappBug Room is extremely easy to use. One person can assemble the Room in less than 10 minutes; it is designed to operate in residential or commercial locations using four separate 120v, 1500w power sources. Operate the room unattended with included timers that automatically shut off the Room. Also included is a wireless digital thermometer with three wireless probes to ensure that temperatures reach above 120 F in your items (bed bugs die rapidly at 120 F and above.) Heat treatments are a safe and effective alternative to spraying your belongings with chemicals. A bed bug heater can treat large items, or many small items, quickly and thoroughly by safely heating them to a temperature bed bugs can not survive in. This saves time spent checking each item, and saves you money that may otherwise be spent replacing infested items that must be thrown out!

ZappBug Room™ Target Pests:
Bed Bugs, Drywood Termites



ZappBug Roomâ"¢ Manual
ZappBug Roomâ"¢ Size:
Measures 80" x 111"x 57.5"
ZappBug Roomâ"¢ Category:
Tool, Bed Bug Control, Heat
ZappBug Roomâ"¢ Manufacturer:
ZappBug