Orders Placed By 3:00 PM CT Ship Today! (In Stock, M-F)
Pro Quality Pest Control Products - No License Required, Since 1997
Need Expert Help?  Call 1-855-55-37378 (EPEST) 8:30 - 4:30pm CT (M-F)
Chapin Sure Spray Lawn and Garden Sprayer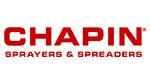 Chapin Sure Spray Lawn and Garden Sprayer
Chapin Sure Spray Lawn and Garden Sprayer
The Chapin Sure Spray Lawn and Garden Sprayer is an excellent choice if you're looking for an effective yet inexpensive sprayer to apply pesticides around your home or office.
The Lawn and Garden Pump Sprayer features Chapins patented SureSpray Anti-Clog Filter, a funnel opening for easy filling and cleaning, a translucent bottle for ease in checking fluid level, a 28-inch hose and 12 inch wand with adjustable spray nozzle.

Chapin Sure Spray Lawn and Garden Sprayer Features:
* Funnel Top
* Adjustable Nozzle
* Reinforced Hose
* SureSpray Anti-clog Filter
* Wand Holder
* Comfortable Spray Handle

Chapin Sure Spray Lawn and Garden Sprayer Uses / Applications:
The Chapin Sure Spray Lawn and Garden Sprayer is the perfect sprayer for small outdoor or indoor projects.

Easily mix and apply pesticides, herbicides, fertilizers, soaps, detergents, stain, bleach - just about anything. Simply add your solution, fill tank with water, shake, pump and start spraying. Convenient adjustable tip sprays a round cone pattern or a jet stream. When finished, empty tank, fill with water and store. Rust and corrosion proof design will last for years.

Instructions for Use:
1. Fill the sprayer tank half full with water.
2. Add the recommended amount of insecticide concentrate (make sure to read the product label for the insecticide you want to use).
3. Fill the sprayer tank the rest of the way full with water to make one gallon, close the lid firmly, and agitate the tank to make sure the insecticide/water solution is mixed well.
4. Pump the tank to pressurize it by using the pump handle and apply the insecticide using the wand.
5. The spray nozzle on the wand can be adjusted to allow for wide or narrow spray patterns.
Chapin Sure Spray Lawn and Garden Sprayer Model: 20000
Chapin Sure Spray Lawn and Garden Sprayer Size: 1 Gallon (4L) Polyethylene Tank
Chapin Sure Spray Lawn and Garden Sprayer Manufacturer: Chapin Manufacturing